UNDERCUTTING WITH EXCAVATORS AND BACKHOES
The DymaxRail Ballast Blaster undercutter attachment features advanced patented design and durability.  A Ballast Blaster Undercutter efficiently removes fouled ballast rock and mud by cutting and pulling the material out from beneath the railway tracks.  This attachment adapts to Railway Excavators and Backhoe Loaders equipped with a tilt-rotator coupler system.
BLASTER WEAR PLATES
Our patented Ballast Blaster Undercutter features bolt on indexable wear plates with full carbide protection that surrounds all sides of the cutter bar and includes a 2 year warranty.
BI-DIRECTIONAL CUTTING
A DymaxRail Ballast Blaster cuts and removes ballast faster with it's innovative chain design.  The Dymax Carbide Tooth (DCT) features two-sided protection allowing operators to cut in both directions.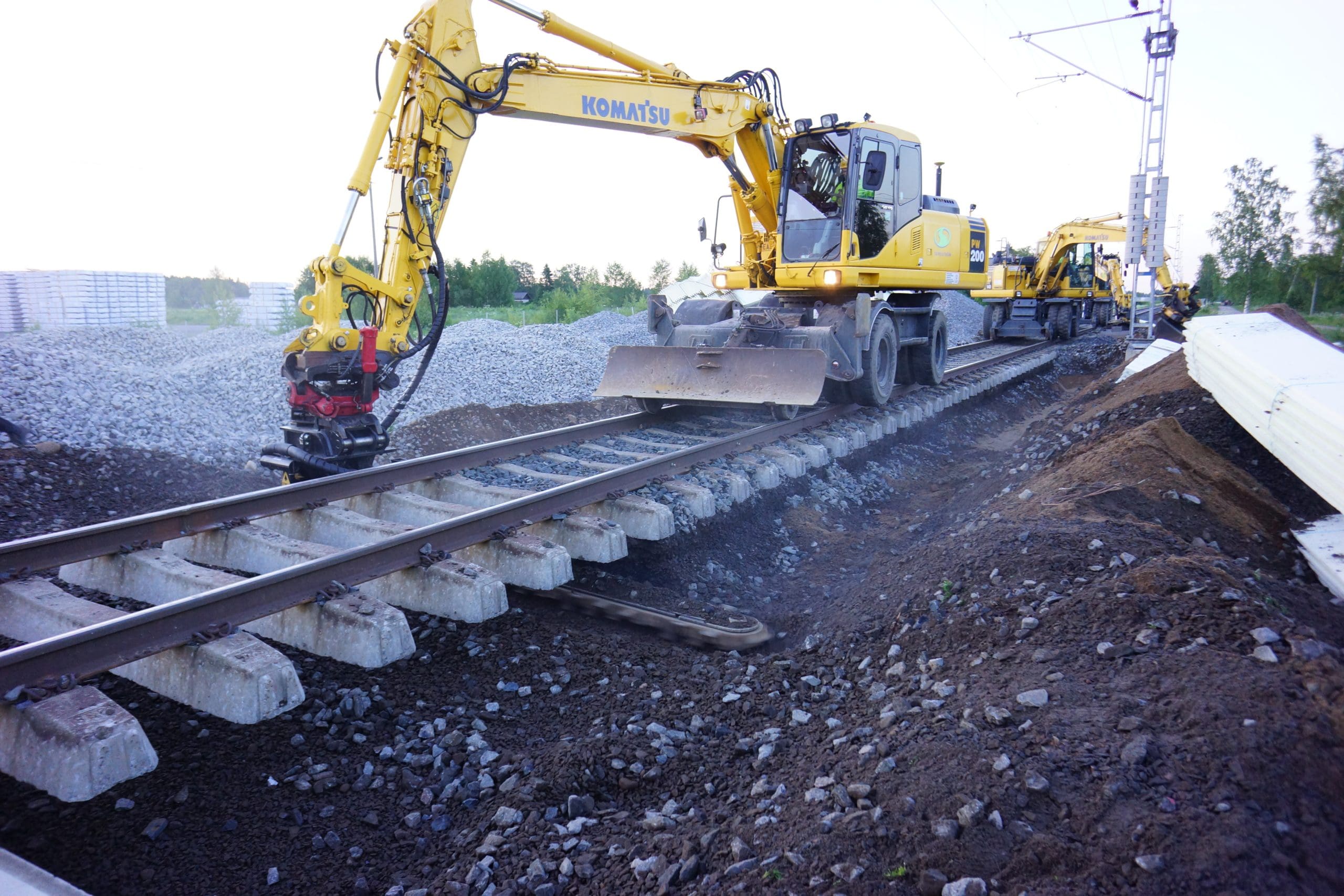 1
For 8T Excavators and Backhoe Loaders
3
Carbide replaceable wear plates and mechanical chain tensioner
4
Carbide wear plates and automatic chain tensioner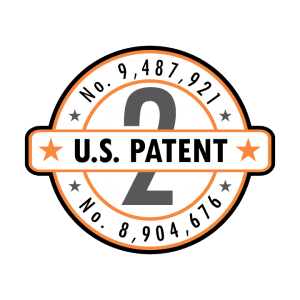 AUTOMATIC CHAIN TENSION
For 13-36T models including 10, 12 and 15 foot cutter bar lengths.
Provides shock absorbing performance to increase chain life and reduce chain breaks.
Includes tensioner gauge for visual recognition of chain tension pressure.
DRIVE MOTOR PROTECTION
Full shroud protection around drive sprocket.
Reduces seal contamination by keeping unwanted debris out.
AR400 wear plates provide additional wear protection.
SERVICE. SIMPLIFIED.
When its time to service it's quick and easy with removable top adapter.
CUTTING CHAIN AND TOOTH OPTIONS
All models feature standard DymaxRail two-way carbide forged cutting teeth (DCT Model designations)
For customers who prefer rotating carbide bits we offer Kennemetal cutting solutions.

Rotating carbide bit models are designated as (RCB) in the models listing.

Chain sizes are matched to horsepower requirements.
For custom OEM Solutions contact DymaxRail.
EXCAVATOR & BACKHOE MODELS
Model ID
Model Code
Description
Weight (lbs)
For Backhoe Loader and 8-11Ton Excavators
Standard Features: 4.1in ( 104mm) cut width • Patented Bar with replacable carbide wear plates • Mechanical Chain Adjuster
2284
DX-UC-BBTR-6ftxADCT-BL-20
Undercutter-Ballast Blaster Tiltrotator-6 feet cutting length x Size "A" chain with DymaxRail Carbide Teeth-Backhoe Loader-Class 20
1050
2285
DX-UC-BBTR-6ftxADCT-HX-8T
Undercutter-Ballast Blaster Tiltrotator-6 feet cutting length x Size "A" chain with DymaxRail Carbide Teeth-Hydraulic Excavator-8 Ton
1050
2286
DX-UC-BBTR-8ftxADCT-HX-11T
Undercutter-Ballast Blaster Tiltrotator-8 feet cutting length x Size "A" chain with DymaxRail Carbide Teeth-Hydraulic Excavator-11 Ton
1600
2283
DX-UC-BBTR-8ftxADCT-HX-8T
Undercutter-Ballast Blaster Tiltrotator-8 feet cutting length x Size "A" chain with DymaxRail Carbide Teeth-Hydraulic Excavator-8 Ton
1550
For Excavators 13-18 Ton Excavators
Standard Features: 6.1in ( 155mm) cut width • Patented Bar with replacable carbide wear plates • Auto chain adjuster
2288
DX-UC-BBTR-10ftxBDCT-HX-14T
Undercutter-Ballast Blaster Tiltrotator-10 feet cutting length x Size "B" chain with DymaxRail Carbide Teeth-Hydraulic Excavator-14 Ton
3480
2287
DX-UC-BBTR-10ftxBRCB-HX-14T
Undercutter-Ballast Blaster Tiltrotator-10 feet cutting length x Size "B" chain with Rotate Carbide Bits-Hydraulic Excavator-14 Ton
3480
2290
DX-UC-BBTR-10ftxCDCT-HX-14T
Undercutter-Ballast Blaster Tiltrotator-10 feet cutting length x Size "C" chain with DymaxRail Carbide Teeth-Hydraulic Excavator-14 Ton
3480
2289
DX-UC-BBTR-10ftxCRCB-HX-14T
Undercutter-Ballast Blaster Tiltrotator-10 feet cutting length x Size "C" chain with Rotate Carbide Bits-Hydraulic Excavator-14 Ton
3480
For Excavators 19-25 Ton Excavators:
Standard Features: 6.1in ( 155mm) cut width • Patented Bar with replacable carbide wear plates • Auto chain adjuster
2293
DX-UC-BBTR-12ftxBDCT-HX-18T
Undercutter-Ballast Blaster Tiltrotator-12 feet cutting length x Size "B" chain with DymaxRail Carbide Teeth-Hydraulic Excavator-18 Ton
3700
2294
DX-UC-BBTR-12ftxBRCB-HX-18T
Undercutter-Ballast Blaster Tiltrotator-12 feet cutting length x Size "B" chain with Rotate Carbide Bits-Hydraulic Excavator-18 Ton
3700
2290
DX-UC-BBTR-12ftxCDCT-HX-18T
Undercutter-Ballast Blaster Tiltrotator-12 feet cutting length x Size "C" chain with DymaxRail Carbide Teeth-Hydraulic Excavator-18 Ton
3700
2292
DX-UC-BBTR-12ftxCRCB-HX-18T
Undercutter-Ballast Blaster Tiltrotator-12 feet cutting length x Size "C" chain with Rotate Carbide Bits-Hydraulic Excavator-18 Ton
3700
For Excavators 25-36 Ton Excavators:
Standard Features: 6.1in ( 155mm) cut width • Patented Bar with replacable carbide wear plates • Auto chain adjuster
2296
DX-UC-BBTR-15ftxCDCT-HX-25T
Undercutter-Ballast Blaster Tiltrotator-15 feet cutting length x Size "C" chain with DymaxRail Carbide Teeth-Hydraulic Excavator-25 Ton
4400
2297
DX-UC-BBTR-15ftxCRCB-HX-25T
Undercutter-Ballast Blaster Tiltrotator-15 feet cutting length x Size "C" chain with Rotate Carbide Bits-Hydraulic Excavator-25 Ton
4400
Design and specifications are subject to change without notice: DCT = DymaxRail Carbide Teeth; RCB = Rotate Carbide Bits
HYDRAULIC REQUIREMENTS
| | |
| --- | --- |
| Hydraulic Requirements | Motor/Chain Drive |
| Model ID # | Type: Two-way flow + drain |
| 2284, 2285, 2286, 2283 (6-8ft models) | 26-32 GPM / 4200 psi |
| 2288, 2287, 2290, 2289 (10ft models) | 36-40 GPM / 4500 psi |
| 2293, 2294, 2290, 2292 (12ft models) | 40-42 GPM / 4500 psi |
| 2296, 2297 (15ft models) | 45-50 GPM / 4500 psi |
BALLAST BLASTER TILTROTATOR GALLERY