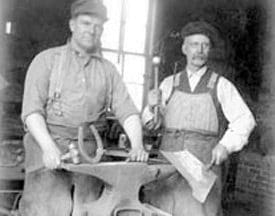 A CENTURY OF COMMITMENT
What's in a name? Sometimes not much. Often everything. Dymax was born amidst the values and beliefs of the Balderson family. It's a name that has long stood for quality, integrity, and service.
1875 – Seth Balderson worked his trade as a blacksmith and taught his son John what he knew.
1900 – John's son, Neil Balderson was an unschooled blacksmith. He shod horses, repaired wagons, sharpened plowshares.
1929 – Willard Balderson went to college. Studied engineering. Worked with his dad. Marketed. Promoted.
1930 – Neil built his first snow plow. It featured his most prized asset. His name. In the 1930s that's all some men had.
1960 – Sold thousands of snow plows.
1970 – Developed the Balderson™ Coupler.
1975 – Patented the Balderson™ Landfill Bucket. Guaranteed satisfaction. Or your money back!
1980 – Clark Balderson dreamed. A global marketplace.  New customers. New products.
1983 – Bought Fleco.
1984 – Started Balderson™ Overseas.
1985 – Founded DYMAX.
1986 – Launched Balderson™ Canada.
1987 – Bought Raine Manufacturing.
Today – Dymax and the Balderson family continue the tradition.
https://dymaxrail.com/wp-content/uploads/2014/08/old.jpg
216
275
Jordan Erickson
https://dymaxrail.com/wp-content/uploads/2017/03/DYMAXRAIL-NEW-wICON50.png
Jordan Erickson
2014-08-24 18:56:26
2017-10-30 16:35:12
The Balderson Legacy